Congratulations!  You have Creative's Zen, and if your experience has been anything like mine, you have, by now, discovered that while the player is a nice little machine, the software really stinks and Creative's support is not much better.  Particularly unpleasant is the challenge of converting videos for use on the Zen.
 
After much experimenting, I have discovered a free, fairly-straight forward solution for producing a video that will play on a Zen.
Step 1: Get Creative's Zen
Step 2: Get a video file you want to put on the Zen.
Step 3: Get SUPER from eRightSoft
This is the Wikipedia page about SUPER:
             http://en.wikipedia.org/wiki/SUPER_%C2%A9
This is the link to SUPER's homepage:
             http://www.erightsoft.com/SUPER.html. 
eRightSoft really buries the download link (it's at the bottom of the third page), so I have included a direct link to their file here:
             http://www.erightsoft.biz/GetFile.php?SUPERsetup.exe
 
When you open SUPER, you have many options.  The crucial options are pointed out in the following image.  The bitrate of your video and audio is not so crucial, so you can play around with that.
 
You can right-click anywhere in the SUPER window to get a large menu of options.  One of the options is "Output File Saving Management."  Use that option to specify where you want your converted files to be saved.  From that same menu you can choose "Export (Save) a SUPER "Settings Profile.""  This will save some of the options you have selected, but it will not save the options you choose on the screen that follows (see below), so I suggest that you write down, and put in a safe place, the exact settings described here.  More than once I have figured out successful settings, used them, then, a few months later, forgotten what I did.  That is why I have written this post.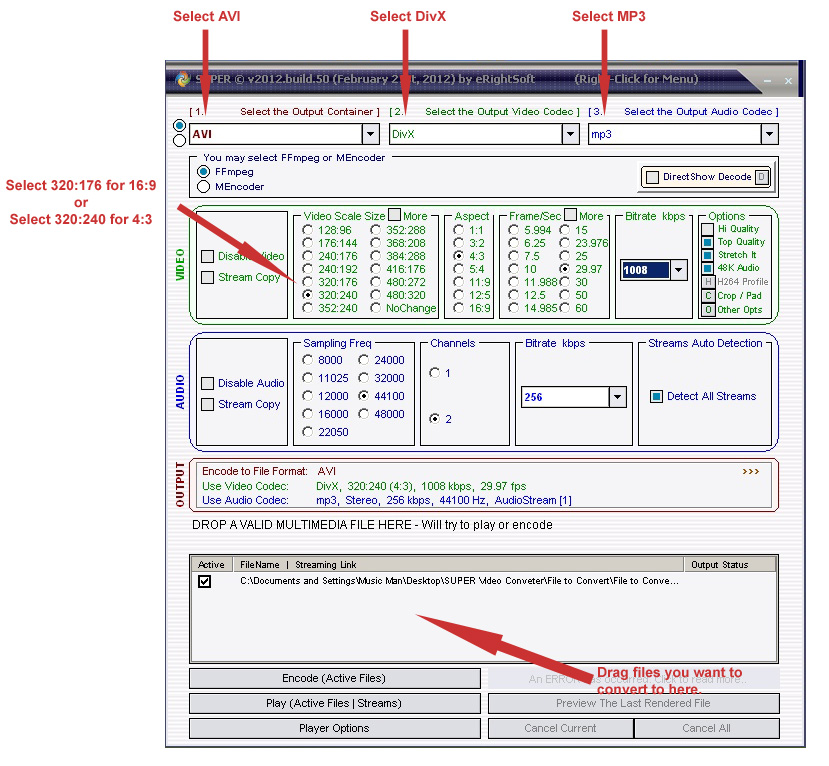 After you have dragged the files you want to convert to SUPER and selected your options, click the button near the bottom left that says "Encode (Active Files)."  Be patient for a few seconds, after which time the following screen will appear.  Select the options indicated by the arrows, then click the big "OK" button.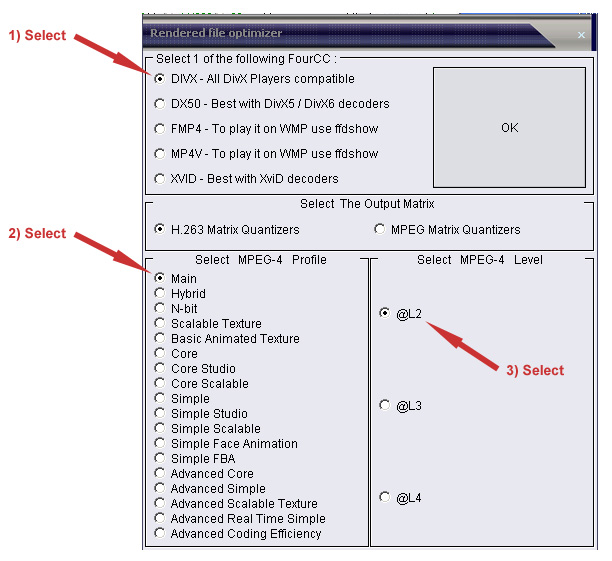 After SUPER has finished you SHOULD have files that you can drag to the Video folder on your Zen. 
 
Two final comments:
1) These settings work for me.  If you have problems, please let me know.  I am by no means an expert in this stuff, but I do like learning more.
2) These are not the only settings that will work.  They might not even be the best (see above about me not being an expert).  If you know of other settings that might produce smaller files or better quality files, please feel free to share.  I was just looking for something that worked, and this is what I found. 
 
Cheers.